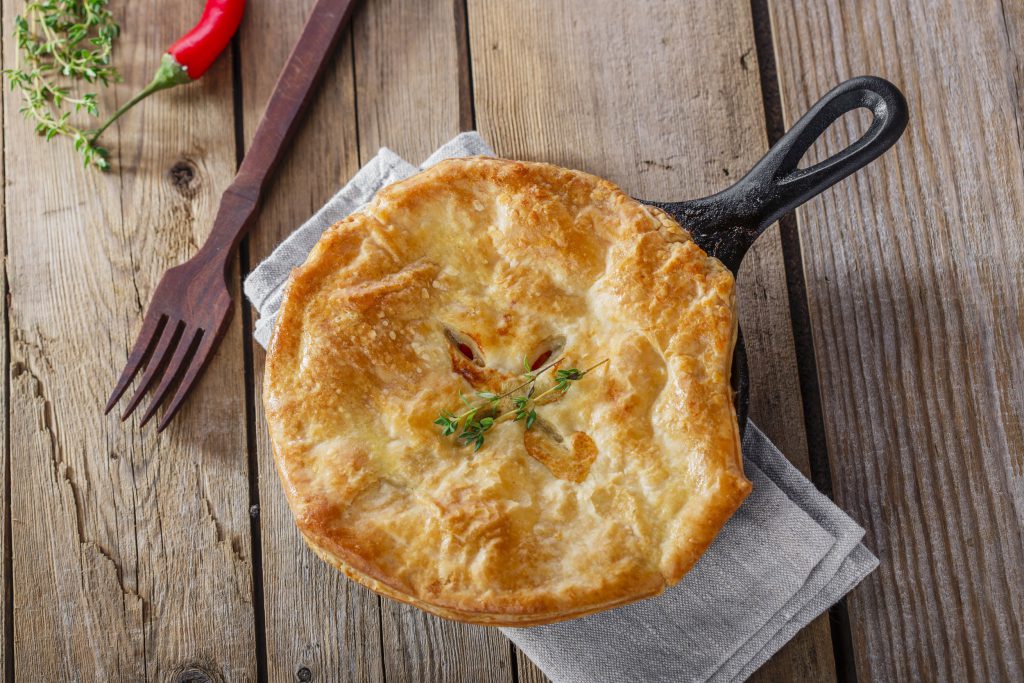 I remember when I was young, if I were sick, had a hard day at school, or had teeth pulled, my mother would always show me her love through comforting food that would help me regain my strength and provide nourishment to heal my body.
So, when Squish, my youngest, had been home for a couple of days with the flu. She was finally starting to work up an appetite and asked me to make her Chicken Pot Pie. I jumped at the opportunity to show her the care and love that my mother had shown me.
I will always remember the way my mother cared for me when I was little. She was always willing to snuggle with me, tickle my back, tuck me in, and I swear that if "Love" was a spice in her drawer it was full of it because I swear I could taste the love that she poured into every meal. She has some big shoes to fill. And, while I don't want my children to be sick, I do enjoy the opportunity to care for them as my mother did for me because showing you love someone leaves a longer lasting impression on them rather than just saying it would.
Check out this recipe for some love-filled GF Chicken Pot Pie.
PREP TIME 20 minutes
COOK TIME 50 minutes
TOTAL TIME 1 hour10 minutes
INGREDIENTS
FOR THE CRUST (MAKES TWO 10″ CRUSTS, ENOUGH FOR ONE LARGE POT PIE, OR 6 SMALL POT PIES):
3 cups all-purpose gluten-free flour blend
   1/2 teaspoon salt (omit if using salted butter)

   2 teaspoons xanthan gum (omit if you use a blend that has xanthan)

   1 cup butter (2 sticks), cold - cut into small pieces

   8-10 tablespoons milk, cold
FOR THE FILLING:
1 pound skinless, boneless chicken breast halves – cubed
   1 cup sliced carrots

   1 cup frozen green peas

   1/3 cup butter

   1/3 cup chopped fresh yellow or white onion

   1/3 cup all-purpose gluten-free flour blend (or 3 tablespoons corn starch)

   1/2 teaspoon salt

   1/4 teaspoon black pepper

   1 3/4 cups chicken broth

   2/3 cup milk
INSTRUCTIONS
For the crust- Preheat oven to 425°F (220°C). In a medium mixing bowl, combine flour, salt, and xanthan gum.
With a pastry knife (or a knife and fork), cut butter into flour until butter is the size of small peas.
Add milk and combine. Add additional milk if needed. You may need to use your hands to work the milk into the dough.
The dough should be moist and easy to roll.
Divide dough in half and roll each ball of dough out on a gluten-free floured surface with a rolling pin until approximately 10-inches in diameter. Alternatively, roll dough between two pieces of wax paper.
Place one circle of dough into the pie pan and trim edges if necessary.
For the filling- In a medium saucepan, combine chicken, carrots, and peas. Add water to cover and boil for 15 minutes. Remove from the pan and drain; set aside. If you are using precooked chicken, cook the peas and carrots, then add in the cooked chicken after draining.
In the same saucepan over medium heat, cook onions in butter until soft and translucent.
Stir in flour, salt, and pepper. Slowly stir in chicken broth and milk.
Simmer over medium-low heat until thick. Remove from heat and set aside.
Place the chicken and veggie mixture in bottom pie crust, filling about halfway. Pour the gravy mixture over the top and fill about 3/4 of the way.
Cover with top crust, seal edges and cut away excess dough. Cut small slits in the top to allow steam to escape.
Bake for 30 to 35 minutes, or until pastry is golden brown and the filling is bubbly.
Cool for 15 minutes before serving.
DID YOU MAKE THIS RECIPE?
Tag @mokabest on Instagram