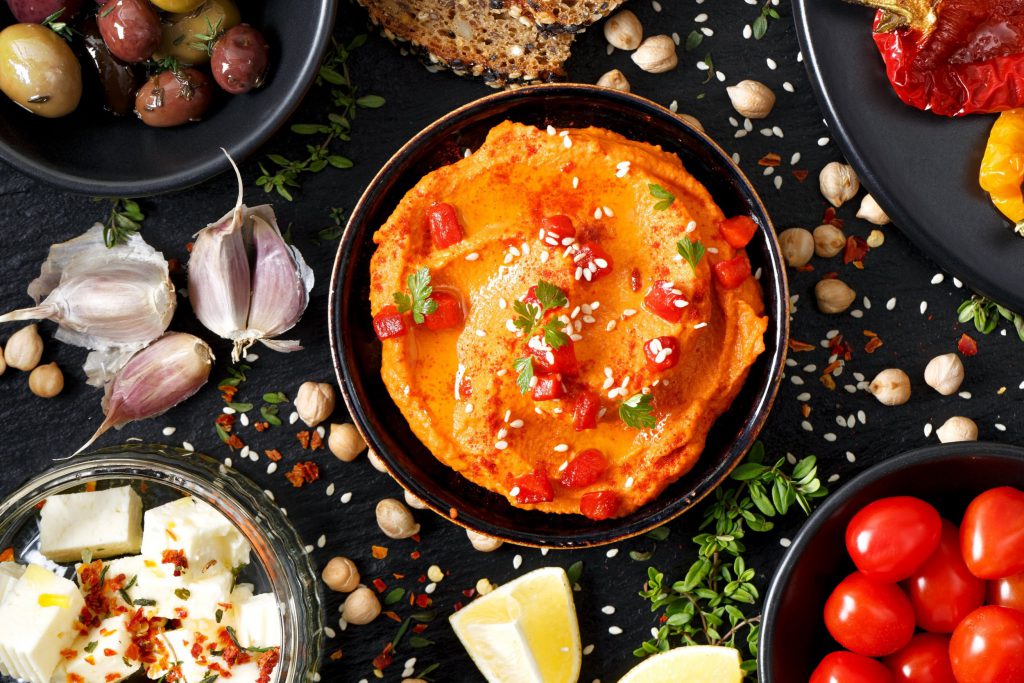 Hummus is extremely easy to make, and loaded with protein, fiber, and heart-healthy fat making it the ultimate healthy go-to snack to have on hand. Because it's so nutrient dense, it will help curb your appetite between meals without leaving you full of regret. Besides, it happens to taste "oh em gee" amazing. I may be biased, but this recipe blends the perfect combination of flavors that will even keep your pickiest eaters coming back for more.
Prep Time: 5 minutes Cook Time: 5 minutes
INGREDIENTS
• 3/4 cup roasted red bell peppers, about 1 pound
• 2 15oz. cans chickpeas/garbanzo beans
• 1/4 cup tahini paste
• 2 tbsp avocado oil
• 1 1/2 tbsp fresh lemon juice
• 1 1/2 tsp crushed fresh garlic
• 3/4 tsp paprika
• 1/4 tsp sea salt
• 1/4 tsp cayenne pepper
INSTRUCTIONS
Drain and rinse the roasted red peppers and chickpeas.
In a food processor, combine the roasted peppers, chickpeas, tahini paste, olive oil, lemon juice, garlic, and spices.
Pulse the ingredients for about 1 minute, then process until smooth. If the mixture seems too thick, add warm water one tablespoon at a time and blend until you've reached the desired consistency.
Add additional salt, lemon juice, cayenne or garlic to taste. Then, process again to blend any additional ingredients.
Pour into a bowl and chill thoroughly before serving. Hummus will thicken as it chills.
Enjoy with your favorite veggies or gluten-free flatbread.
DID YOU MAKE THIS RECIPE?
Tag @mokabest on Instagram