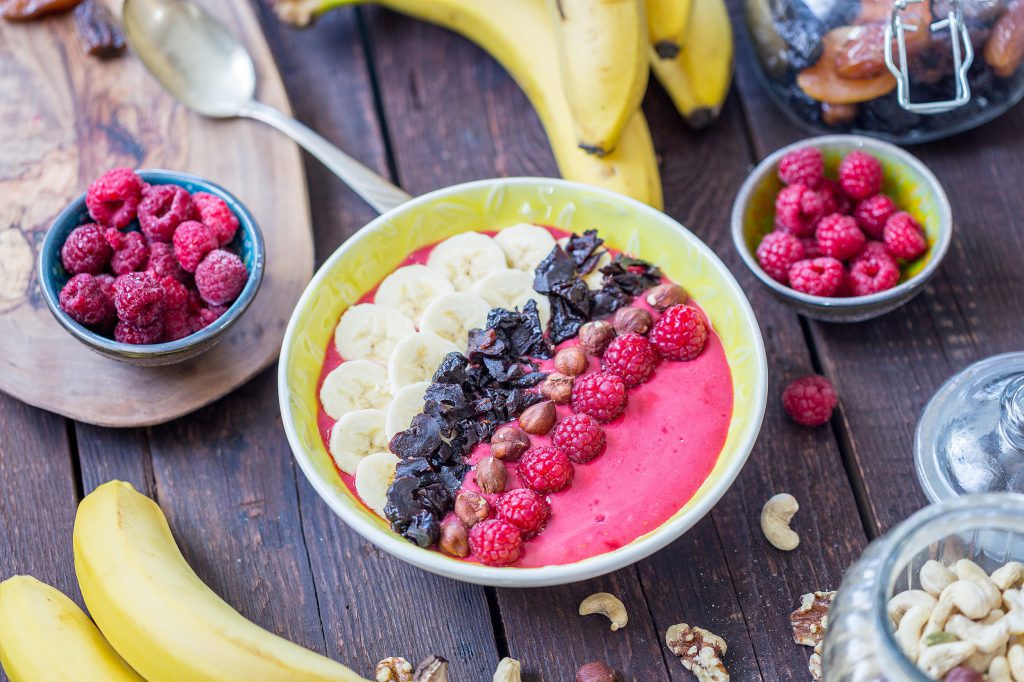 When acai bowls first hit the market I was like, "Wait, how do you say that? What is it?" I became quickly intrigued by the beautiful colors of the purple acai and a variety of fruits and toppings.
I hopped online to find out where I could try one of these babies. On my way into work, I popped into a juice bar to ease my curiosity, but that backfired. I only became more curious and highly addicted! I was in love but still trying to figure out what exactly acai was and why these delectable bowls were so dang expensive!
Just like everyone else does, I hopped online and googled it. So, here's what the Google told me. It's native to the Amazon and grows on acai palm trees in the rainforests. They're incredibly nutrient dense and loaded with antioxidants and known as a Brazilian "superfruit" that's wildly popular for its health benefits.
The purply-pink acai powder is a bit tangy and bitter. Where the real fun begins is with the toppings. Dressing it up with an array of sliced fruits or berries are a must! You'll also want to add a drizzle of agave nectar and a sprinkling of bee pollen. If you're in need of a more substantial option, bulk it up with some dried berries, granola, coconut, or chia seeds. The possibilities are endless so get creative!
Ready to make your own? Let's do it!
Tip: The acai bowl base is thicker than a smoothie so for best results, use a high-powered blender like a Blendtec.
INGREDIENTS:
4 tablespoons acai powder
2 frozen sliced bananas
1 cup unsweetened almond milk
2 tablespoons nut or seed butter (I used almond butter)
1/2 to 1 tablespoon agave nectar, to taste
TOPPINGS:
Strawberries
Blueberries
Kiwi
Agave Nectar
Granola (optional)
Unsweetened Coconut Flakes
Flax Seeds (optional)
Bee Pollen (optional)
DIRECTIONS:
Add acai powder, frozen bananas, almond milk, almond butter, agave to the blender. Blend on high until the consistency is thicker than a smoothie. Add additional almond milk as needed.
While blending, slice the strawberries and kiwis. Pour the acai mixture into bowls and top with sliced strawberries, blueberries and kiwis. Drizzle agave nectar on top and add the optional toppings if your heart so desires.
You can't go wrong with your toppings. Try substituting different fruits and experimenting.
DID YOU MAKE THIS RECIPE?
Tag @mokabest on Instagram